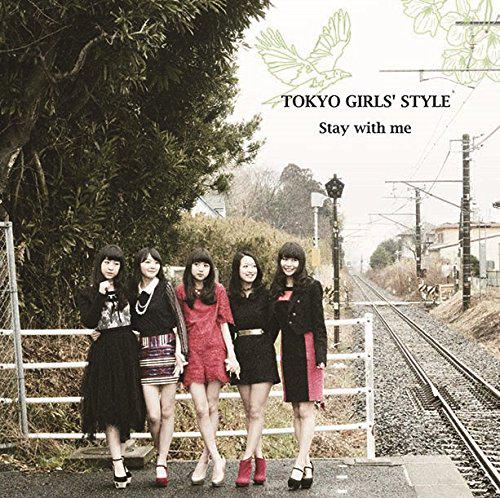 Single Tokyo Girls 'Style yang akan datang berjudul Stay with me akan dirilis di Jepang pada tanggal 11 Maret.
Ini adalah single ke-18 dari grup idola tersebut. Lagu utamanya, Stay with me, diciptakan oleh Miyu Yamabe.
Daftar lagunya telah terungkap. Beberapa edisi dari single ini akan tersedia: 4 edisinya dinilai sebagai A, B (keduanya berisi CD dan DVD), C dan D (keduanya berisi CD saja).
CD single ini akan berisi beberapa lagu seperti lagu utama Stay with me, lagu-lagu B-side seperti A New Departure dan Kasokudo dan versi instrumentalnya. CD edisi terbatasnya akan berisi sebuah lagu bonus, lagu co A-side dari single Say long goodbye dalam versi remix.
DVD dari edisi A dan B akan berisi video musik dari lagu Stay with me dan rekaman pembuatannya.
Selain itu, single sebelumnya dari Tokyo Girls 'Style Style Say long goodbye / Himawari to Hoshikuzu -English Ver.- sedang dijual sejak tanggal 10 Desember. Juga, 1 album best-of dari Tokyo Girls' Style berjudul 1st Best Album Kirari ☆ (1st BEST ALBUM キラリ☆) akan dijual pada tanggal yang sama sebagai single berikutnya.
Tracklist
CD
1. Stay with me
2. A New Departure
3. Kasokudo (加速度)
4. Stay with me (Instrumental)
5. A New Departure (Instrumental)
6. Kasokudo (Instrumental)
Bonus
1. Say long goodbye -Vocal Only for REMIX-
DVD (Type A)
1. Stay with me (Music Video)
2. Making movie
DVD (Type B)
1. Odekake Off-Shot Video
---
Source : jpop-idols.com

Comments