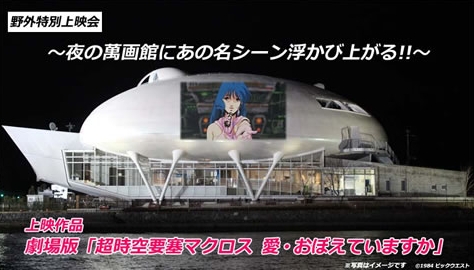 Shotaro Ishinomori Manga Museum yang berbentuk pesawat ruang angkasa menjadi tuan rumah pemutaran khusus dari Macross: Do You Remember Love? pada 4 Mei. Tidak seperti pemutaran film lain, yang satu ini akan diproyeksikan ke luar gedung.
Tiket masuk untuk pemutaran film ini gratis, dengan acaranya dimulai sekitar pukul 18:30 JST (waktu Jepang).
Shotaro Ishinomori Manga Museum terletak di Ishinomaki City, Prefektur Miyagi, dan didedikasikan untuk penulis manga yang paling terkenal di kota ini, yang menulis karya-karya seperti Cyborg 009. Sementara museum itu pernah rusak selama gempa 2011, museum itu secara resmi dibuka kembali pada Maret 2013. Saat ini museum itu menjadi tuan rumah dari "Macross the Museum," sebuah pameran yang mencakup kokpit VF-1S skala 1:1. Pameran ini akan berada di museum manga tersebut hingga tanggal 6 Juli. Sebelumnya pameran itu diselenggarakan di The Osamu Tezuka Manga Museum di Takarazuka City, Jepang.
---
Source : animenewsnetwork.com

Comments