JASRAC Awards selaku ajang tahunan bergengsi Jepang yang diprakarsai oleh pihak Japanese Society for Rights of Authors, Composers and Publishers (Lembaga Jepang untuk Hak Penulis, Komponis, dan Penerbit), baru saja memberikan piala emasnya kepada seorang musisi muda.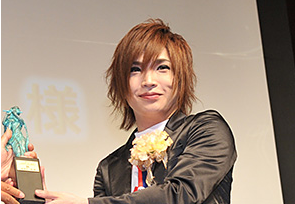 Dilansir dari JPop Asia, Sabtu (24/5/2014), sosok yang mendapat kehormatan besar tersebut adalah Sho Kiryuin, vokalis sekaligus komposer grup rock Golden Bomber. Ia dihadiahi piala tersebut berkat hasil komposisinya di lagu Memeshikute.
Memeshikute sendiri merupakan single ketujuh Golden Bomber dan merupakan lagu mereka yang paling terkenal. Tembang tersebut dirilis pada 2009 hingga menempati posisi keempat Peringkat Indie Oricon.
Pihak JASRAC merasa bahwa lagu Memeshikute memiliki melodi yang mudah ditangkap serta koreografi sederhana. Kepribadian para personel yang unik juga menjadi bahan pertimbangan mereka. Bahkan, lagu tersebut sudah menjadi salah satu nomor populer yang banyak dinyanyikan di karaoke.
Sementara Sho Kiryuin menerima piala emas, sosok Yasushi Akimoto dan You Yamazaki juga mendapat kehormatan dengan menerima piala perak berkat lagu Heavy Rotation yang dinyanyikan oleh idol group besutan mereka, AKB48.
Tembang Heavy Rotation sendiri bukan hanya tahun ini diganjar piala JASRAC Awards. Pada 2012 dan 2013 lalu, single yang dirilis pada 2010 itu sudah meraih piala emas. Bahkan grup saudari AKB48, yaitu JKT48 dan SNH48 pernah membawakan ulang lagu berirama rock itu.
Piala perunggu diraih oleh Mitsuru Igarashi dari grup Every Little Thing berkat tembang Time Goes By. Lagu tersebut pernah diangkat sebagai single pada 1998 dan sempat meraih piala emas di tahun yang sama.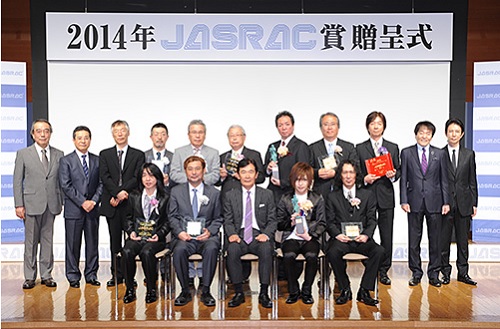 Berikut daftar lengkap para pemenang JASRAC Awards ke-32:
Karya Dalam Negeri:
Gold Award: Memeshikute (Sho Kiryuin)
Silver Award: Heavy Rotation (Yasushi Akimoto / You Yamazaki)
Bronze Award: Mitsuru Igarashi
Karya Luar Negeri:
Foreign Work Award 1: Hey Jude (John Lennon / Paul McCartney)
Foreign Work Award 2: Daydream Believer (John Stewart)
Foreign Work Award 3: Bittersweet Samba (Sol Lake)
Penghargaan Internasional:
Naruto Shippuden Background Music (Yasuharu Takanashi)
---
Source : showbiz.liputan6.com

Comments