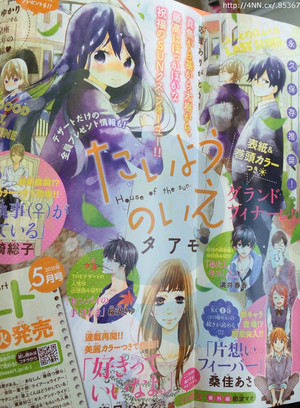 Majalah Dessert terbitan Kodansha edisi April telah mengumumkan chapter terakhir dari spin-off dari manga House of the Sun ciptaan Taamo. Manga yang memiliki judul asli Taiyou no Ie ini akan terbit pada edisi Mei mendatang dan akan mendapatkan halaman pembuka berwarna dan muncul di sampul majalah tersebut.
Bagian awal manga spin-off ini akan fokus pada Sugimoto, atau yang dikenal juga dengan "Radical". Spin-off ini pertama kali diumumkan pada Januari lalu.
Manga ini pertama kali dipublikasikan pada tahun 2010 dan pernah memenangkan penghargaan untuk kategori shoujo di 38th Kodansha Awards. Saat ini manga-nya juga tengah terbit di Indonesia.
---
Source : animenewsnetwork.com

Comments