Telah terungkap bahwa tayangan live-action spesial untuk televisi berjudul Ano Hi Mita Hana no Namae wo Bokutachi wa Mada Shiranai/AnoHana (anohana: The Flower We Saw That Day) akan tayang di Jepang tanggal 21 September mendatang, dan para pemeran ciliknya pun telah diumumkan. Live-action AnoHana ini akan dibintangi oleh Yuuta Takahata sebagai Poppo, Airi Matsui sebagai Anaru, Nijirou Murakami sebagai Jintan, Minami Hamabe sebagai Menma, Jun Shison sebagai Yukiatsu, dan Marie Itoyo sebagai Tsuruko.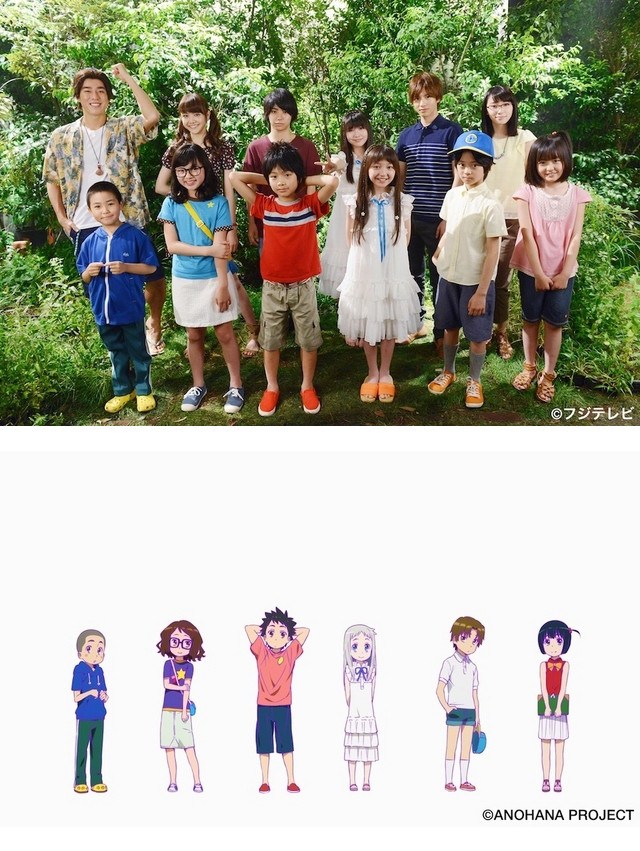 Seperti dikutip dari kitakubu.co, para pemeran ciliknya diperankan oleh (dari kiri ke kanan dalam foto di atas) Santa Takahashi sebagai Tetsudou "Poppo" Hisakawa, Chinami Yoshioka sebagai Naruko "Anaru" Najou, Ryoka Minamide sebagai Jinta "Jintan" Yadomi, Kanon Tani sebagai Meiko "Menma" Honma, Ruiki Satou sebagai Atsumu "Yukiatsu" Matsuyuki, dan Karen Ichihara sebagai Chiriko "Tsuruko" Tsurumi.
Siapa nih yang sudah tidak sabar melihat penampilan mereka dalam live-action AnoHana?
---
Source : kitakubu.co

Comments