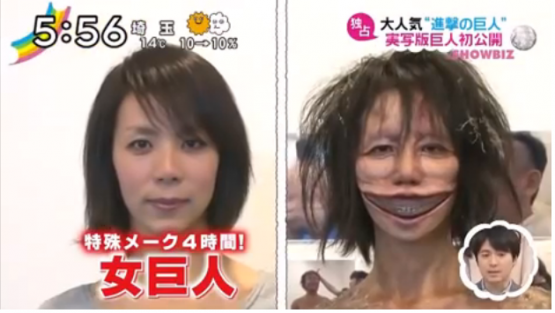 Kalian penggemar berat Attack on Titan? Produser film live-action Attack on Titan yang rencananya akan dirilis tahun depan saat ini mencari peran figuran. Si pemeran akan menjadi Titan, dan tentu saja menggunakan sedikit make-up dan sentuhan ajaib CGI.
Penasaran mencoba? Pastikan dulu kalian layak untuk mengikuti casting ini dengan membaca syarat-syarat untuk peminat casting seperti dilansir oleh salah seorang pengguna twitter Jepang di bawah ini; Tenang saja, berikut dilampirkan terjemahannya.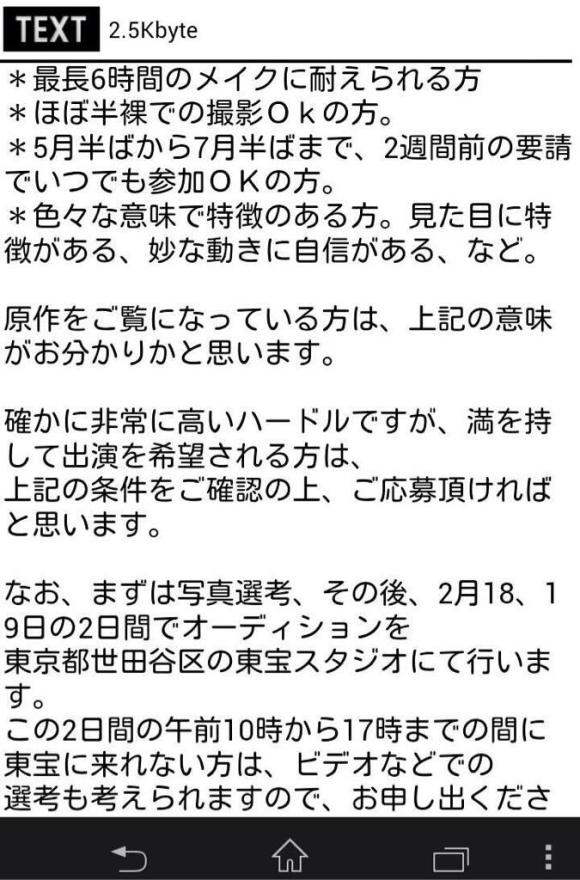 You must be able to stand heavy makeup for up to six hours at most.
You must be OK being filmed in states of semi-nudity.
Given two weeks' notice, you must be available for filming at any time between mid-May through mid-July.
We are especially interested in people with various types of peculiar characteristics, in terms of outward appearance, agility, etc.
Those of you who have seen the original TV show or read the manga will understood what we mean by the above.
These are tough hurdles to overcome, but please be patient and hang in there if you really wish to appear in the movie. Please double-check the criteria mentioned above before submitting your application.
In addition, after the initial photo screening, auditions will be held on February 18 and 19 at Toho Studios in Setagaya Ward, Tokyo.
For those of you who cannot make it to the studio on one of those two days between 10 AM – 5 PM, we will also be accepting video submissions.
Terjemahan Indonesia:
Anda harus mampu untuk mengenakan make-up yang sangat banyak selama 6 jam.
Anda setuju untuk melakukan pengambilan gambar dengan keadaan setengah telanjang.
Anda harus siap melakukan pengambilan gambar antara pertengahan Mei hingga pertengahan Juli; akan diberikan pemberitahuan 2 minggu sebelumnya.
Kami lebih tertarik jika anda memiliki kemampuan istimewa, seperti penampilan unik, kemampuan fisik, dll.
Jika anda sudah pernah melihat acara TV maupun membaca manga aslinya akan mengerti apa yang kami maksud di atas.
Mohon bersabar jika anda benar-benar berniat untuk muncul dalam film ini, dan memeriksa kembali apakah anda masuk dalam kriteria yang kami cari sebelum mengirim permohonan.
Setelah seleksi melalui photo screening, akan digelar audisi pada tanggal 18 & 19 Februari di Toho Studios, Distrik Setagaya, Tokyo.
Bagi anda yang telah lulus seleksi foto tetapi tidak bisa menghadiri audisi tersebut antara jam 10 pagi – 5 sore, anda dapat mengirimkan video anda.
Video berikut ini menampilkan proses pembuatan karakter Titan dari orang biasa, menggunakan pengolahan komputer dan make-up.
Jika kalian sangat ingin ikut dalam produksi, ada baiknya melakukan riset dari sekarang.
Source: en.rocketnews24.com

Comments